nbsp;Storage Temperature:nbsp;-20℃ to +55℃
nbsp;Transmission Type:nbsp;2.4GHz Digital Frequency
nbsp;Weight:nbsp;Approx. 32g(1.13oz)
【発送について】注文完了後、海外倉庫から国内へ取り寄せの為、2〜3週間でのお届けとなります。日本に到着後、検品し発送させて頂きます。発送時に、配送業者と追跡番号をお伝えいたします。日本郵便、佐川急便にて発送いたします。【関税について】関税手続きは全て当方で対応致します。稀に税関審査の開封による外箱の損傷がございますが、商品自体の品質は問題ございませんのでご安心ください。【注文について】複数購入希望の方は、取り置きをしてまとめて発送させていただきます。(電波法上の技術基準に適合する必要がある無線機器のご検討のお客様へ:商品は並行輸入品である為、電波法上の技術基準に適合致しません。日本国内でご使用する場合、電波法に違反する恐れがございます。ご購入・ご使用には十分ご注意ください。)カテゴリー: マイクメーカー: Saramonicブランド: Saramonic高さ: 18.4 センチ幅: 16.3 センチ奥行: 9.8 センチ重量: 0.8 Kg
nbsp;Storage Temperaturenbsp;-20℃ to 55℃
nbsp;Operating Range:nbsp;Up to 328′(100m)
nbsp;RF Output Power:nbsp;10mW
nbsp;Charging Timenbsp;3 hours
【発送について】注文完了後、海外倉庫から国内へ取り寄せの為、2〜3週間でのお届けとなります。日本に到着後、検品し発送させて頂きます。発送時に、配送業者と追跡番号をお伝えいたします。日本郵便、佐川急便にて発送いたします。【関税について】関税手続きは全て当方で対応致します。稀に税関審査の開封による外箱の損傷がございますが、商品自体の品質は問題ございませんのでご安心ください。【注文について】複数購入希望の方は、取り置きをしてまとめて発送させていただきます。(電波法上の技術基準に適合する必要がある無線機器のご検討のお客様へ:商品は並行輸入品である為、電波法上の技術基準に適合致しません。日本国内でご使用する場合、電波法に違反する恐れがございます。ご購入・ご使用には十分ご注意ください。)
nbsp;Frequency Response:nbsp;50Hz-18KHz
nbsp;Power Requirementsnbsp;Powered by USB-C port (5V/1.5A)
nbsp;Maximum SPL:nbsp;Built-in Microphone:120dB SPLLavalier Microphone: 110dB SPL
nbsp;Power Requirementsnbsp;Supplied by iOS Devices
nbsp;Dimensionsnbsp;123×102×39.7mm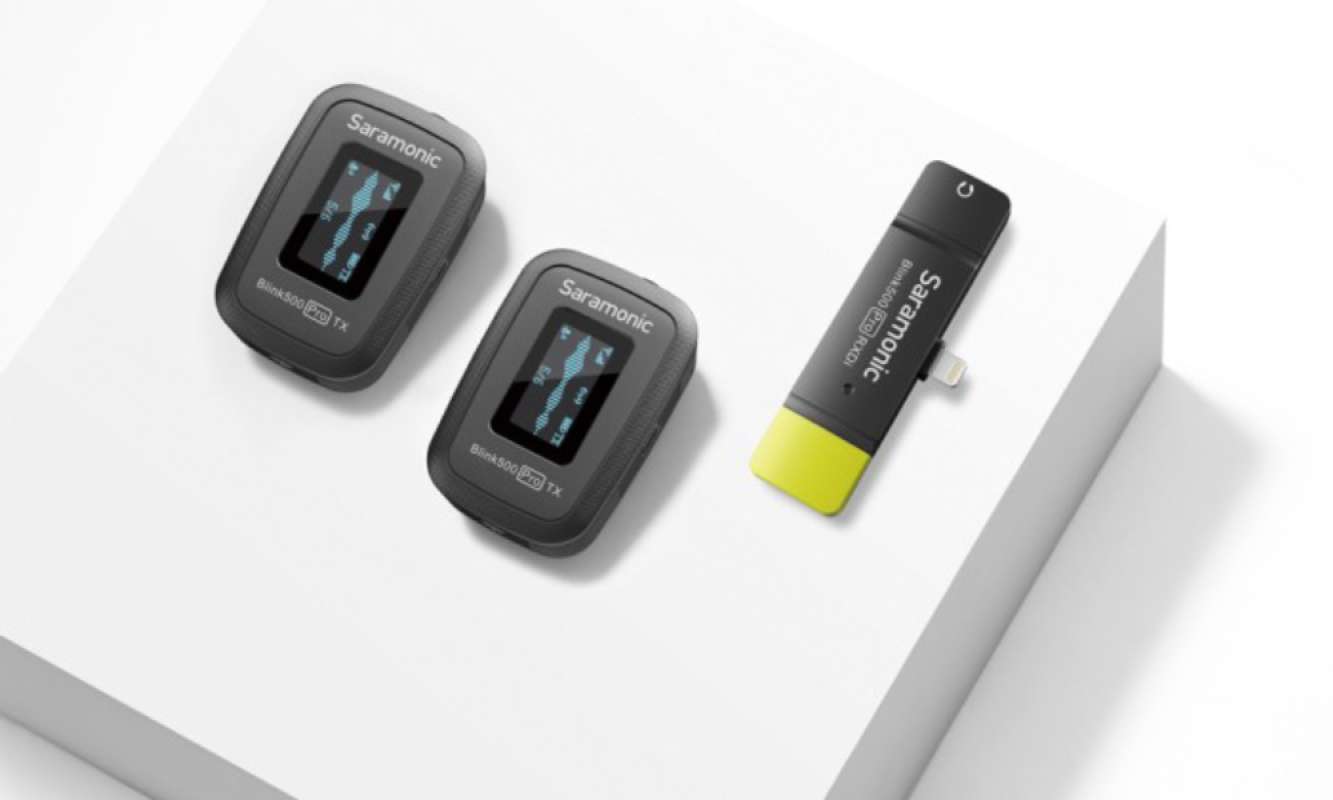 nbsp;SNR:nbsp; 78dB
nbsp;Reference audio input level:nbsp;-30〜42dBv MIC input,0 dB attenuation
Thenbsp;RXDi receivernbsp;has anbsp;MFi Certified Lightning outputnbsp;and is designed for Apple iOS devices.The clip-on transmitternbsp;has great sounding built-in mic and it is small and light enough to clip to shirts and clothing,or you can use it as a traditional beltpack transmitter with the included SR-M1 professional lavalier microphone.
nbsp;Operating Temperaturenbsp;0℃ to 50℃
nbsp;Operating Temperaturenbsp;0°C to 50°C
Dual channel receiver for iOS lightning devices Portable charging case for transmitter and receiver Exceptional and broadcasr-quality sound ideal for video production,vlogging,mobile journalism and much more Quick pairing and easy to get start Built-in microphone and an extra SR-M1 lavalier microphone included High-contrast OLED display on the transmitter LINE IN/MIC input switchable Headphone monitoring available One year 説明: Thenbsp;Saramonic Blink500 Pro B3 nbsp;is an incredibly lightweight,ultracompact and easy-to-usenbsp;wireless microphone system,and delivers and exceptional,broadcast-quality sound for DSLR,Mirrorless and Video cameras,mobile devices,and more.
nbsp;Antenna:nbsp;PIFA Antenna
Blink500 Pro BOX Charging Case
nbsp;Audio Inputs:nbsp;3.5mm TRS Lavalier Mic/Line- in Input or Built ? in Microphone
3.5mm headphone output,selectable M/S Switch,quick-charging,OLED display features make the Blink500 Pro meets various recording demands.
nbsp;Operating Temperature:nbsp;0℃ to 50℃
nbsp;Power Capacitynbsp;2000mAh
nbsp;Weightnbsp;200g (7.05 oz)
nbsp;Polar Pattern:nbsp;Omnidirectional
nbsp;Sensitivity:nbsp;Built-in Microphone: -39dBLavalier Microphone: -39dB
Blink500 Pro RXDi
nbsp;Operating Range:nbsp;Up to 328′(100m)
nbsp;Other Functions:Mute function High-contrast OLED Display
nbsp;Other functionsnbsp;3.5mm headphone jack,Mono/Stereo switch
nbsp;Weightnbsp;Approx. 16.5g(0.58oz)
nbsp;Dimensions:nbsp;56.5×38×26.1mm
nbsp;Modulation:nbsp;GFSK
nbsp;Modulation:nbsp;GFSK
The supplied charging case allows you to charge devices anywhere needed,They deliver 8 hours of recording time on single charge,the case can be recharged Via Type-C DC 5v port.
nbsp;Audio Output Connectornbsp;MFi Certified Lightning connector
Blink500 Pro TX
nbsp;Storage Temperaturenbsp;?20°C to +55°C
nbsp;Antennanbsp;PiFA Antenna
No technical knowledge of audio is required to operate.The Blink500 Pro system operates on the interference-free.2.4GHz spectrum and automatically hops to free channels to avoid static noise and audio dropouts.
nbsp;Transmission Type:nbsp;2.4GHz Digital Frequency
nbsp;Built-in Battery Life:nbsp;Approx.8 hours
nbsp;Dimensionsnbsp;31×82×12mm
nbsp;Power Requirements:nbsp;Built-in Li-ion Battery orMicro USB DC 5V or Charging Contact